You Asked, We Answered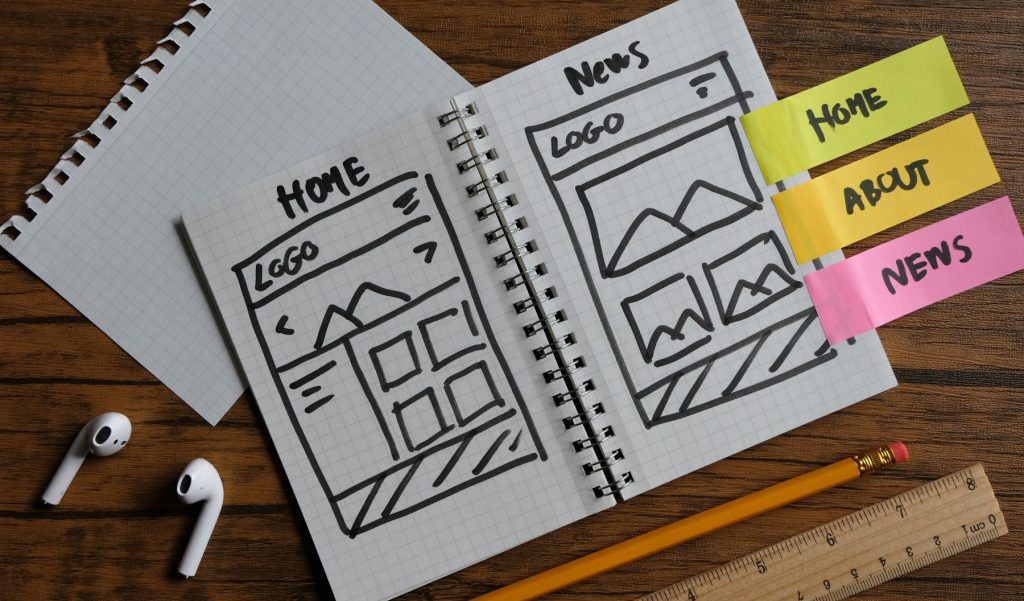 A UX/UI designer specializes in user experience (UX) and user interface (UI) design for websites, apps, and other digital products. 
A UX/UI designer helps to create a digital experience that is attractive, intuitive, easy to use, and makes sense to users. They also use research, testing, and design principles to create visuals, interface elements, and interactions. These are designed to help users feel comfortable and confident when using a product. A founder may want to hire a UX/UI designer in the desktop or mobile app development process. They will work to ensure that the app is designed with the user in mind. 
This article will answer the following questions:
What is User Experience (UX) and User Interface (UI)?
Let's take a minute to break down exactly what user experience and user interface are in a bit more detail. 
User experience (UX) is the overall experience that a user has while interacting with a product, service, or brand. It includes the user's emotions, attitudes, beliefs, and behaviors throughout the entire interaction. 
UX design focuses on the design and development of a product or service to ensure that it meets the needs of users and provides an enjoyable experience. For example, a well-designed online shopping website may include easy to understand product descriptions, helpful reviews, colorful pictures, and a simple checkout process. These items help to create a positive user experience and encourages customers to purchase the product.
User Interface (UI) is a combination of visual elements such as graphics, text, and menus that enable users to interact with a product or service through a website or app.
UI allows users to intuitively use a product or service by performing varying actions. These actions can include clicking, typing, swiping, and tapping. An example of a UI is the graphical user interface on a computer. It allows a user to interact with the computer's operating system. In a mobile devise, the user interface would be the touch screen, where the user performs the actions noted above to interact with the website or app.
Is a UX/UI designer necessary for every app project?
It is not always necessary to hire a UX/UI designer for an app development project. Before deciding to hire a UX/UI designer to work on their app idea, the founder may want to examine the pros and cons of doing so.
Pros: A UX/UI designer can help to create a better user experience. This experience leads to higher user engagement, longer amounts of time spent on the app or site, and user satisfaction. All of this could ultimately translate to increased revenue. This may be particularly important in retail sales, services the user is considering, or if the user is intending to pay for the app. 
A UX/UI designer can also speed up the development of an app by providing the app developer the ability to quickly create user interfaces and user experiences that are intuitive and easy to use. Additionally, hiring a UX/UI designer will give the development team a better understanding of the user experience. This will enable the developers to create features that are tailored to the user's needs. This may also speed up the development process.
Cons: Hiring a UX/UI designer to work in conjunction with the developers on an app can be costly. It may take time to find a suitable UX/UI designer that will meet the needs of the app founder. Therefore, hiring a UX/UI designer could take valuable time that could go into working on the project. 
A UX/UI app design can also be complex. It could take a lot of research and testing to ensure that the app is user-friendly and effective. This can also be time consuming and, therefore, cost extra money.
How important is it that the UX/UI designer and the app developer collaborate on a project?
App developers and UX/UI designers need to closely collaborate on an app project to ensure that the app is both functional and visually appealing. App developers create the code and logic and know the programming languages used in the app, which determines how the app works and functions. UX/UI designers create the user experience and user interface of the app, which determines how the app looks to the users and how users will interact with it.
This usually involves creating a wireframe that shows what the user interface on an app will look like. If these two aspects of app development are not properly coordinated, an app may not be successful. The app may have the functionality needed but not be visually appealing and be difficult for users to manipulate. Or it may have a nice user interface and be attractive but lack the functionality that both the founder and the users of the app need. It is important for an app to have both functionality and be designed in an appealing, easy to use fashion to be successful.
When should a UX/UI designer be hired to work on an app development project?
If an app founder decides to hire a UX/UI designer to work on an app development, they may want to do so as soon as possible in the app development process. A UX/UI design is an integral part of an app's development.
By getting input from a UX/UI designer from the onset, the designer can help an app founder create an app that is easy to use, visually appealing, and meets the user's needs while also meeting the founder's goals. This way, the app founder can be ensured that the app is designed with the user in mind, while it also meets their expectations. Hiring a UX/UI designer early in the process also allows the designer and the app developer to collaborate from the onset. This way, the app developer will not inadvertently waste time creating app design or functionality that may need to be altered or discarded later on.
What if I wait to hire a UX/UI designer?
If you wait to hire a UX/UI designer, the designer may decide that the app's features and functionality as designed by the developer would be confusing to the user. They may want to make significant changes. These changes may include removing or changing some of the functionality, adding additional functionality, or altering how the functionality is presented to the user in the interface.
It's also possible that the UX/UI designer could determine that the app's appearance does not sync with the company's branding, or it  isn't as appealing as it could be. This could cause the developer to discard completed work, to rewrite or move around code for a redesigned interface, or to create new code for additional functionality.
If these scenarios occur, the developer may need to devote extra time on the project, which would cost more money. The release of the app would also need to be delayed until all of the changes were completed by the developer, and the new design and functionality was tested to ensure that it works as intended.
There are ways that some these problems can be mitigated. The UX/UI designer can examine the design the developer has already put in place prior to requesting any changes to the design, functionality, or interface. They could then attempt to keep as much of the initial design as possible while still providing suggestions for a user-friendly and intuitive user experience. Any portions of the developer's design that can be used may reduce the amount of time needed to make changes.
Are there any advantages of hiring a UX/UI designer late in the game?
When hired after much of the development process is complete, a UX/UI designer can provide a fresh perspective on the design of the app. They can identify potential usability issues or areas of improvement that may have been overlooked. This can be extremely helpful in ensuring that the final product is as user-friendly as possible. 
For example, a UX/UI designer could review the app's navigation structure and suggest ways to make it more intuitive and easier to use. They may also suggest adding visual and interactive design elements that would improve the overall user experience that would not require the developer to totally redesign the app. Furthermore, they can review the app's content and suggest ways that would make it more engaging and relevant to the target audience.
Overall, having a UX/UI designer on board late in the game can be beneficial in ensuring that the final product is as polished, attractive, and user-friendly as possible.
Do you have any questions about software or app development? Matraex is a software and app development company based in Boise, Idaho that is dedicated to giving unbiased, straightforward answers. We want you to be an informed consumer and make the right decisions for you and your company, organization, or institution. Feel free to leave a message on our site, contact us, or post a question on our Google Business Profile. We look forward to hearing from you and answering your questions.
Sign up to receive answers to your questions delivered directly to your inbox!